The Hasbrouck Project Overview
In 2014 West Vault acquired a 75% interest in the Hasbrouck Gold Project located on Highway 95 between Reno and Las Vegas, Nevada. The remaining 25% interest is held by Clover Nevada LLC, a wholly-owned subsidiary of Waterton Precious Metals Fund II. Waterton are a participating partner in advancing the project.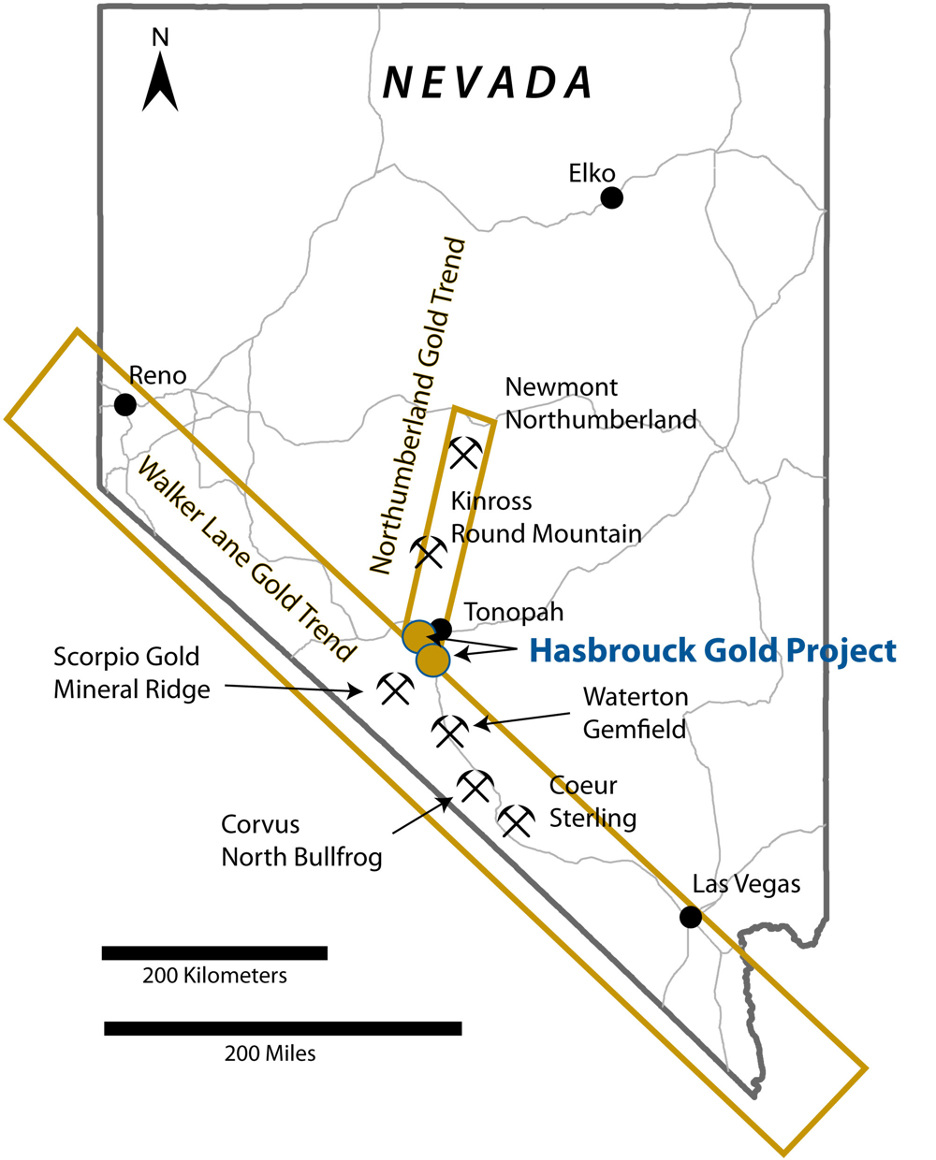 West Vault's Nevada properties with surrounding gold mines and deposits
(Click to Enlarge)
At the time of purchase, the Hasbrouck Project consisted of 11,000 acres hosting two oxide gold-silver deposits, Hasbrouck, and eight kilometers to the north, Three Hills. By the end of 2018, West Vault had acquired an additional contiguous 1,300 acres, including the Hill of Gold deposit.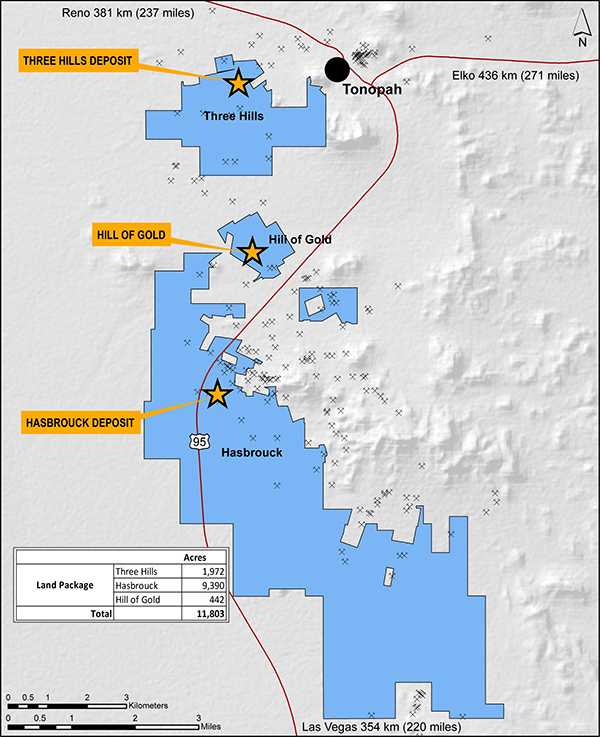 The Hasbrouck and Three Hills deposits, Esmeralda County, Nevada
(Click to enlarge)
Geology
The Hasbrouck and Three Hills deposits are all-oxide, low-sulfidation, epithermal vein systems that are suitable for open pit heap leach mining. Mineralization is at-surface and near-surface which positively impacts the economics of the deposits. Both deposits have been extensively drilled by previous operators, including Allied Nevada, with over 600 bore holes in the two deposits.
Key advantages of the Hasbrouck Project include:
Resource (see table below):*
- 143,000 gold (Au) ounces Measured
- 784,000 Au ounces Indicated
- 136,000 Au ounces Inferred
Low 1:1 stripping ratio; minimal pre-strip
All-oxide, above the water table, suitable for open-pit heap leach mining
81.5% Au recovery at Three Hills, run-of-mine
74% Au recovery at Hasbrouck with three-stage crushing
Existing infrastructure; roads, water, power, and near-by town
Nevada - a low risk, pro-mining jurisdiction
First-phase Three Hills Mine fully-permitted; construction ready
Second-phase Hasbrouck Mine approaching permitted status
Hasbrouck and Three Hills Mineral Resource Estimate
Mineral Resources are reported inclusive of Mineral Reserves.
Hasbrouck Deposit Reported Mineral Resources* November 3, 2014,
Mine Development Associates (0.006oz AuEq/ton Cutoff)
Class
Tons
oz Au/ton
oz Au
oz Ag/ton
oz Ag
Measured
8,261,000
0.017
143,000
0.357
2,949,000
Indicated
45,924,000
0.013
595,000
0.243
11,147,000
M+I
54,185,000
0.014
738,000
0.26
14,096,000
Inferred
11,772,000
0.009
104,000
0.191
2,249,000
Notes: oz AuEq/ton = oz Au/ton + (oz Ag/ton x 0.000417)
Three Hills Reported Mineral Resources* August 4, 2014,
Mine Development Associates (0.005oz Au/ton Cutoff)
| | | | |
| --- | --- | --- | --- |
| Class | Tons | oz Au/ton | oz Au |
| Indicated | 10,897,000 | 0.017 | 189,000 |
| Inferred | 2,568,000 | 0.013 | 32,000 |
Notes:
1. CIM definitions are followed for classification of Mineral Resources.
2. Mineral Resources are estimated using a gold price of US$1,300 per ounce and a silver price of US$22 per ounce.
3. Totals may not represent the sum of the parts due to rounding.
4. The Mineral Resources have been prepared by Paul Tietz, C.P.G of Mine Development Associates in conformity with CIM "Estimation of Mineral Resource and Mineral Reserves Best Practices" guidelines and are reported in accordance with the Canadian Securities Administrators NI43-101. Mineral resources are not mineral reserves and do not have demonstrated economic viability. There is no certainty that all mineral resource will be converted into mineral reserve.
Authors and Qualified Persons Statement
The 2016 pre-feasibility study was prepared in conformance with NI 43-101 by Mine Development Associates (MDA). Technical work, analysis and findings were completed by Thomas L. Dyer, P.E. and Paul Tietz, C.P.G. of MDA, with contributions by Herb Osborne, Metallurgical Eng., SME, of H.C. Osborne & Associates (metallurgy), Ryan Baker, P.E., of NewFields (civil and heap leach) and Carl Defilippi, SME, of Kappes Cassiday & Associates (process design). Each person is a "Qualified Person" under NI 43-101 and has reviewed and approved the information relevant to the portion of the 2016 PFS for which they are responsible. MDA has reviewed and verified the data conform to CIM "Estimation of Mineral Resource and Mineral Reserves Best Practices" guidelines and to NI 43-101.
Sandy McVey, P.Eng., Chief Operating Officer for West Vault, and a non-independent Qualified Person as defined by NI 43-101, has also reviewed the information contained herein and has verified the data.
Sample preparation, analyses and security
It is MDA's opinion that the sampling, assaying, and security procedures used at Three Hills and Hasbrouck follow industry standard procedures, and are adequate for the estimation of the current mineral resources and reserves.
Data verification
MDA completed audits of the database, performed a site visit, reviewed QAQC data and confirmed historic assays. After performing their review, they consider the assay data to be adequate for the estimation of the current mineral resources and reserves.